Facebook Users to Get Personalized Usernames
Daniel Ionescu, PC World
Jun 10, 2009 5:52 pm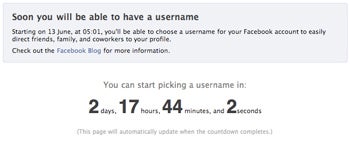 Facebook has finally decided to give its 200 million users an easier way to share their profiles. In about two days, the social network will let users chose an alias for their Facebook profile on a first-come, first-serve basis.
Mark your calendar: on June 13 at 12.01 a.m. Eastern Time you can grab a username of choice that will redirect to your Facebook profile. At the moment, users' profiles appear as http://www.facebook.com/profile.php?id=[string of nine numbers]. The new vanity URL selection will allow you to have a vanity URL for your Facebook page in the format http://www.facebook.com/yourusername. A notice on users' homepage will also be available, with instructions on how to activate this new URL.
A lot of people are expected to start claiming their vanity URL, so if you have a common name, you should keep close to your computer late Friday night. Facebook recommends choosing a username as close as possible to your true name, and the network will prevent the registration of a username that infringes a trademark.
Facebook fan pages will also be eligible for personalized URLs but with a few conditions: a page must have more than 1000 fans and it must be live on Facebook prior to May 31, 2009. Like with individual users, a fan page is allowed only one alias.
Vanity URLs are becoming an important part of one's online social life, as it makes it easier for others to find you by just typing your name after the service's URL (i.e. http://www.twitter.com/pcworld). Twitter and MySpace have been providing personalized usernames for awhile now.
Note Source:http://www.pcworld.com/article/166407/facebook_users_to_get_personalized_usernames.html

--
********************************************************************
SHAHZAD AFZAL MALIK See my web:
"
http://shahzadafzal.blogspot.com/
" "
http://www.geocities.com/shahzad85
" ********************************************************************